Things We Make
Making Brochures
Making Websites
Making Your Brand
Making CD Roms
Making Stationary
Making Databases
Making E-Commerce
Making Phone Websites
Making Newsletters
Making A Difference
Making Music
Making History
First and foremost we will make you a brand new
bespoke website
Best laid plans…
Your First point of contact for creating your new web site will more than likely be Phil or Charlie, both directors of the company and both very experienced in the wonderful world of the web, and planning projects with military precision.
They will sit down with you and discuss exactly why you are looking to create a new web site, and what you want to get out of it. They'll create a very rough site map of how the web will be structured, and then start asking some questions about potential viewers – why they are on your web, and what they want to achieve by visiting your web. You can see a sitemap we created for this site (version 3 of the Webbuilt4u site) By clicking on the Sitemap image to the right.
Understanding the viewer is the most important factor. We aim to create a very intuitive web, which will make the whole navigation natural and simple, so viewers can find what they want easily, and hopefully get in touch.
After the meeting we will create what we call a "Statement of Work." This can be seen in the top image on the right of this page.
It basically cements the meetings/emails/conversation together, ensuring all parties are singing from the same hymn sheet. These schedules of work are very important to both you and us, it means we have defined what you want us to achieve, and we have agreed on how we will do it. After we have agreed the time scales involved in the project. We hand over the reigns to our art department.
The Design Process
Hopefully you will have seen one of websites that we have designed that you quite like the look of, but you may have seen others that you want to incorporate into your design – perfect. The more information you can give us, the better the job of work. Hopefully you'll provide us with lots of images, logos, product shots etc so we can use your visuals to produce your concept pages.
Rough Layout: The designer will then go away with his sketchbook, and create what we call a wire frame design. You can see a sample wire frame design to the right of this page (3rd image down)
The project manager will then email over this wire frame design checking everything is ok with the layout from your point of view. If not, it will be tweaked and changed until you are happy with it.
Concept Design: Once you are happy with it, we will give the designer the green light to open up Adobe Photoshop, Fireworks or whatever graphical package they are using this week and transform the wireframe into a static web page concept. When we have this created,and Charlie or Phil are happy with what the designers have produced, we'll send the design over to you. It is very important you are 100 percent happy with the design as there is no going back once it is signed off.
Next the designer will design the rest of the pages for the site, and these will be sent over as they are done to make sure there are no mistakes. And once this is complete. The Graphics are sent down the corridor. To the dark room that no one dares enter . The coding department of Webbuilt4u. Where our team of thorough bred geek's sit in a dimly lit room, arguing about which Star Wars (we think episode 4) was best and hand writing some of the finest web code in the North of England.
The Coding Process
Chances are you will never meet any of the people who code your site, its probably for the best to be honest, they generally speak in grunts, are not very sociable and dress up as goblins and Klingons at the weekend. Despite being very antisocial and drinking cask ales, they are masters of the art of web coding, making sites in CSS, and PHP you will get a cutting edge, future proof website that will work like a dream from the minute it launches.
We use test servers to test the site as we go along. We will email you a link to the site when there is something too see. We will then continue to tweak until the site is 100% correct.
Once your domain is moved over to our servers. We will set all your email up and launch the site.
You may now open a nice bottle of champagne (we might even send you one if you were nice to work with.)
Now you have read that, how do we market your site?
Here's an example of the schedule we will lay out after our initial Meeting: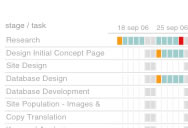 Then we will make a sitemap, that looks a bit like this.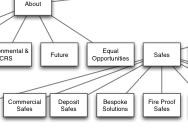 Then we will draw a wire frame, it gives us a basic idea where we are going with the project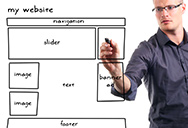 And finally we get a design finished and move on to the build.